There are a number of walking harnesses out on the market today.  They can help you as a parent not strain your back bending over to hold up your toddler.   And if your child has low muscle tone, it is a good idea to avoid holding their arms in the overhead position as seen below:
Their shoulder girdle may not be strong and stable enough to be supportive for the rest of their body. And we don't want to stretch out their little joints.
I would not use this device on a child under ten months, and in general I do not recommend encouraging early walking (under eleven months) for an otherwise typically developing child.  Remember the goal is to have them crawl for at least 2 months before walking.
I do recommend shortening the time when your child starts to pull to stand on their own, and cruise- and their actual first steps. If they have been cruising for more than two months and they are 14 months old, then I would increase the amount of time they are on their feet and walking.   The biggest reason is that many children won't take off with their language until they have mastered walking.  Why is this?  There aren't enough hours in the day, nor energy  in a child, to focus on two big skills at once.  Developmentally there should be a burst of language around 18 months. So it is nice if your child is a confident walker by then.
Below are a number of  Harness options and the pros and cons of each
A&S Creavention® BabyWalker Baby Walking Protective Belt Carry Trooper Walking Harness Learning Assistant Version 2.
The Pro:
The bar across the top is easy to hold and you can control your child's body easily.  You can  help them to move forward or encourage them to go a bit slower, or help them not lean so far forward… you get the idea.  You could hold the bar with one hand for a second if you needed to reach something.
The Con:
The chest strap can end up pulling up under your child's arm pits and raise their shoulders up. This position would be uncomfortable, and not the alignment of their body that you want for your child as they are learning to walk.
This design with two straps  may be hard to coordinate with your arms if your child is unstable.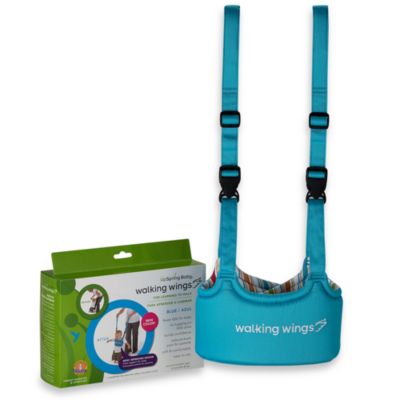 The Pro of the  following design is the pelvic support will  help control your child's lower body somewhat. The chest straps  may give enough support to the upper body for your child.  And it has a bar which as we noted might be easier than straps for you to manage.
The Con: Because children at this age are top heavy, it leaves a good amount of their body unsupported above the axis of the harness.   This may be fine for many children.  If your child needs  a fair amount of upper body support and they try to  lean on the chest straps they may not feel secure.
Here is a video of a Toddler with Mom using the first type of harness.
When his parents first tried it a month earlier, we decided he was not ready to use the harness.  He needed more support than the harness gave him.
Here are the skills he now has that told me he is ready to use the harness:
Crawling- and in this case up an incline wedge:
Playing on hands and knees:
Pulling to stand on a vertical surface

Here is another technique that can save your back:  A home made push toy!
Pushing a kitchen or dining room chair across linoleum or wood floor will build up their upper body strength and give them practice walking.  Hold the back of the chair and gently help them move it forward- for them- backward for you.  Have a toy on the chair like a piano.
For more ideas on helping your child learn to walk check out this blog: