So you realize that your child is a toe walker?
What do you do next?
It is a movement disorder, with a number of factors to consider.
The first issue is to stretch the heel cords, and hip muscles, while strengthening the opposite muscles. 
The next step is to determine why your child has chosen an inefficient way to walk.  More than likely it is related to one or both of the following:  weak core or sensory processing disorder.
The last steps should involve gait training and considerations of casting and bracing.
If your child is weak, then stiffening their whole body by going up on their toes can help them maintain higher muscle tone, and recruit more muscles to work for them.
The solution is to strengthen the core muscles, then retrain the walking pattern.  Your PT has many ways to do this with fun exercises, use of gym balls, scooter boards, and a home exercise program.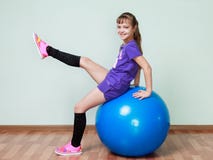 For retraining walking your therapist may use: theraband, treadmills, obstacle courses, hurdles etc.
Here is a fun "tool" to use for a child under the age of 7 or 8 .  I found these duck feet at a toy store.  Swim flippers cut down a bit, or Dad's big shoes would  work as well.
The duck feet are causing this child to take higher, longer steps.
She can not walk on her toes with these on, so she is getting her heel in contact with the floor. I would want these to be worn for 30-60 minutes a day.
If your PT feels your child has sensory processing issues she will address the areas in a number of ways. Your therapist should evaluate  your child's tactile, proprioceptive,  visual and vestibular systems- all parts of our sensory systems to determine what senses may be behind in development and causing your child to want to walk on their toes.
If your child has tactile defensiveness; then placing their whole foot on the floor is a challenge.  This needs to be addressed before they can be convinced to change their walking pattern.
Some activities might include: Stomping/marching in bare feet, Placing feet in a bin of sand,  rice or pasta, giving their own foot a massage with oil, then a towel.
Your child have diminished proprioceptive input- which goes hand in hand with low muscle tone and a weak core.  So bouncing along stimulating their inner ear- vestibular system-tells their body where it is in space.  (Because  their muscle and joint receptors aren't giving them enough information.)  In the picture below, alot is going on.  I have my little friend in a semi squatting position- resting on a stool- reaching forward is giving pressure into her left foot.   The right foot is getting  input from a  mini back massager   I got at the local drug store; her Mom is trying it out.  They will use it at home nightly for 5-10 minutes on each foot. They will  do these two activities separately.
If your child has delays in functional vision, than  they  may be off balance as they walk.  To work on vision you can check out my blog on vision  and bike riding, the activities are appropriate for toe walkers.  Many  children who toe walk  are cautious on stairs ( could be depth perception), and not able to catch a ball ( maybe lack of visual convergence).
The vestibular system may be delayed.  This is a complex system that works closely with vision and assists in maintaining balance.  Your therapist may use slides, swings, trampoline, scooters, balls, and tie these activities into a visual activity at the same time- scanning, holding gaze etc.
And lastly balance should be assessed and addressed if it is a problem.  Your therapist may use a balance beam, rocker board, half foam roller, dyna disc.  They may have your child do activities on one foot, or build an  obstacle courses.
 Home exercises must be done to carry over gains made in therapy.
If your child has very tight muscles,   or has been toe walking for years,  they may need further intervention.
It  is important to have a Pediatric Orthopedist work with you, your child and your PT to determine what next steps are needed.
If your child's ankles are very tight a cast may be put on for a week or two to stretch out the  muscles.  This is painless, but a significant inconvenience.
Resting casts may be fabricated, to be worn each and every night to help stretch the ankle, and or keep the ankle stretched out  after the casting.
Other types of night splints might be custom made of plastic, or a dynamic system like the   Ultra Flex Bracing System.
Once the ankle muscles have gotten looser, it is important to consider what assistance  might be needed to break the toe walking habit.
Orthotics and Bracing may be needed.  A starting point might be a metal insert usually fabricated by an Orthotist, which inhibits the ability to toe walk. It is a piece of aluminum that is cut to be the size of the sole of the shoe, it goes under the insole of the shoe. This makes it very hard  for many (but not all), children to go up on their toes.
If this does not work, then the next step is to  have  a brace made by an orthotist which will help retrain the correct walking pattern.   Something similar to what is shown in this picture.  It is to be worn most of the day. Consider how long your child spent walking on their toes; they need 6 months to a year to change their walking pattern.  Some children need  more time, some less.
These two  are hinged;- so your child can learn to flex their upper leg over their lower leg and foot.
 This can all seem overwhelming for what appears to be just a bad habit.  
But long term toe walking can lead to the heel cords being so tight, that children have trouble, walking, running, going up and down stairs,  and squatting. It can lead to ankle, calf, and knee pain.  It can cause tripping, and falling, as well as not keeping up with their peers on the playground, or with sports.
Talk with your pediatrician about your concerns and consider scheduling an appointment with a pediatric physical therapist, and a pediatric orthopedist.  Having the habit broken at age: 2, 3, 4 or 5 years,  is much easier than at 10 or 12 years of age.